The main area of activity of the CD PROJEKT Capital Group is videogames – a dynamically growing branch of digital entertainment. For nearly 30 years videogames have been at the core of our professional lives. They define who we are and how we act. We create cutting-edge innovative entertainment and, thanks to our proprietary distribution platform, provide gamers from around the world with access to a vast pool of releases, free of cumbersome DRM restrictions.
We strive for perfection in what we do and take an active part in shaping our industry. In order to maintain trust and acclaim among gamers we pursue a diligent, open and honest communications policy. We earn the respect of our customers through devotion and continuous personal engagement – in our private lives we consume electronic entertainment in the same way as those who play our games.
Our business rests upon a strong dual foundation: development of videogames, carried out by CD PROJEKT RED, and global digital distribution, which is the domain of GOG.com. CD PROJEKT RED is a world-renowned videogame development studio, famous for the Witcher games, as well as for Cyberpunk 2077. Till the end of 2022, over 85 million copies of our games were sold worldwide.
The CD PROJEKT Capital Group is headed by CD PROJEKT S.A., a holding company which manages, among others, the activities of the CD PROJEKT RED development studio.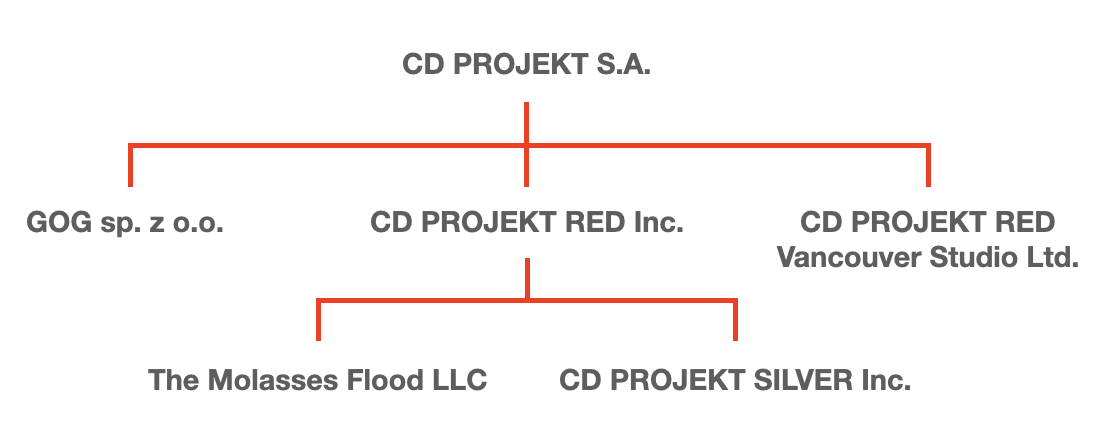 CD PROJEKT S.A. is listed on the Warsaw Stock Exchange as part of the WIG20 index which comprises the 20 largest WSE companies, with the highest liquidity on the market. Our stable financial condition enables us to concentrate on what we do best – developing videogames and providing games throughout the world with access to quality digital entertainment.
In 2022 our company reported 953 million PLN in consolidated sales revenues, which translated into a consolidated net profit of 347 million PLN. The vast majority of CD PROJEKT Capital Group employees are based in our Warsaw headquarters. CD PROJEKT Group has offices in Krakow, Wroclaw, Vancouver and Boston, with teams working on the upcoming releases, as well as a Los Angeles,  Tokyo and Seul offices tasked with coordinating sales and marketing activities throughout the United States, Japan and South Korea, respectively.
The CD PROJEKT Capital Group brings together nearly 1300 people from 43 different countries, united by the passion with which they enter their offices each morning and determined to give it their best. The average age of our employees is just 32.