In April 2022, as the CD PROJEKT Group was preparing to publish its first-ever Report on Sustainable Development for 2021, we decided upon a set of operational goals related to the environmental, social and governance aspects of our organization.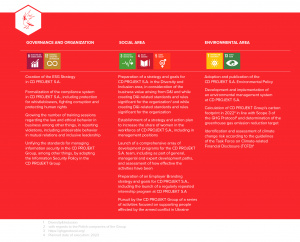 Our ESG goals and activities are fully aligned with the 17 Sustainable Development goals named by the United Nations in its 2030 Agenda for Sustainable Development (also known as the 2030 Agenda).
Detailed descriptions of our undertakings in the scope of implementing the 2030 Agenda can be found under the ESG tab on our corporate website, as well as in individual sections of our Report.